---

ON THE CANVAS
Jack McNeel
Photography by Joe Sharnetsky
Published by Big Sky Airlines Latitude / Summer 2007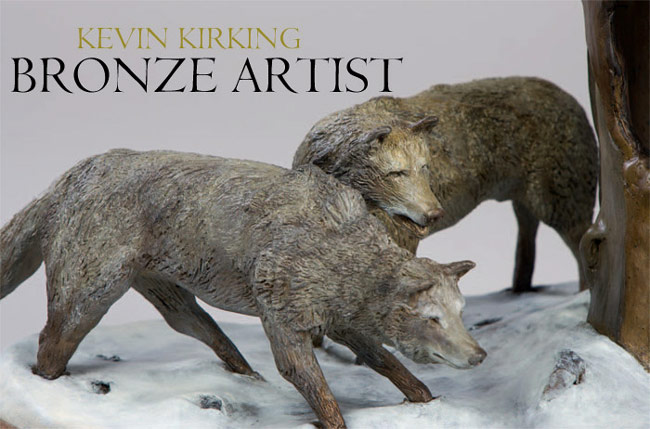 Detail of "BITTERROOT STANDOFF", bronze, 16"H x 19"W x 14.5"D
He'd never planned to be a sculptor. Art was not his college major. He'd never expected that bronzes he creates would someday be displayed in galleries, corporate collections, or the homes of private collectors.
But that's just where the twists and turns of his career choices have brought Kevin Kirking.
His home and studio, now filled with completed bronzes and works in progress, are just across a field from his parents' farm where he grew up at the base of Canfield Mountain near Coeur d'Alene. The outdoors is in his blood. "I was totally immersed in it," Kirking says. Hunting and fishing were part of his life.
College brought a major in biology, life sciences mainly, but he had always had an interest in art. He remembers that as a youngster he liked using clay to sculpt wildlife. "I recall a wolf head and an alligator among other things."
He moved south of Missoula and founded a company that invented and produced an interpretive program based on CD technology concerned with cultural, historic and environmental information for the National Parks. These were installed in Yellowstone, and the Big Horn Battlefield.
Surprisingly, it was that technology that brought him back to art. Research for the interpretive projects brought his company in contact with western Indian tribes and their members, among them the Nez Perce who he found "very open, a welcoming group." This fueled a fascination he'd had about Indian culture since he was a teenager. "We wanted to tell the Indian story as clearly as we could and they were eager to tell it." It also provided subject matter for his subsequent sculptures.
During those years he hiked and rode horses through the backcountry and spent time with a friend working with grizzlies and habitat preservation. "I spent a lot of time up and down western Montana and Idaho: the Bob Marshall, Selway, Bitterroots, Pintlers, and in Yellowstone and Grand Teton. I have a lot of photographs and memories I use as grist for my animal sculptures."
His interest in art never wavered and in his free time tried his hand at different media but found himself attending western art shows and gravitating toward bronze sculpture. Now sculpting is his passion.
Describing himself as "pretty much self-taught," in recent years he has taken various classes and had the opportunity to work with sculptors he greatly admires. John Coleman at the Scottsdale Artist's School and George Carlson through an artist's guild in Coeur d'Alene are two. He also studied foundry science at Bellevue Community College.
He describes his natural style as "realistic representational." He says his ability to observe and remember details contribute to the quality of his work. But he also enjoys experimenting with things "a little more impressionistic and a little more modern."

"LENDING A HAND", bronze, 6"H x 16"W x 10"D
If there's a constant perhaps it's his use of texture. "Texture is so important to a piece because it refracts light and displays so much nicer. I like to use a lot of texture."
He's currently working on a series of sculptures based on Native ledger art, an art form where battles or visions are depicted on ledger paper. "This series is a 3-D representation of common ledger art style," he said.
Most of his pieces, "reflect a spiritual component", which he believes is quite common among artists.
Unity of Truth shows that spiritual side. "It's a Cheyenne medicine man in prayer with a pipe and a replica of Father Desmet's crucifix. For me, the message indicates multiple spiritual pathways. It's a unifying message with the Native American being the centerpiece."
Other sculptures such as Breaking Camp Early, are figurative, combining animal pieces with the human element, often presented in a diorama format. This piece also adds a bit of whimsy. "The message being, that you shouldn't take life too seriously." The sculpture features a bear cub playing with a hat, unconcerned about the conflict between mama and a camper.
A current project honors the Coeur d'Alene Tribe from a low point when hundreds of its horses were slaughtered by the Cavalry in 1858 near present, Liberty Lake Washington, to the Tribe's prominence in the region today. It will show horses rising from bones along the river, analogous to the rise of the tribe itself.
Like all his bronzes, he hopes this one will infuse a personality, a "life essence" to lead viewers into the history and the important story it represents.