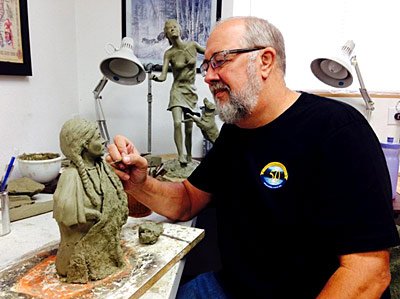 Kevin has been sculpting since 1993 and professionally since 2001, specializing in Western bronze castings. An affinity for sculpting became apparent early while crafting remarkable animal likenesses out of clay as a young boy.

A North Idaho native, Kevin studied life sciences and information technology in college. Mid-career he began serious study of three-dimensional art. His entrepreneurial career provided ready access to detailed Western cultural, natural and historical resources. Kevin's wide-ranging interests continue to provide inspiration for his work.

Though largely self-taught, his formal fine arts education includes studies at Scottsdale Artist School under the tutelage of CA sculptor John Coleman, evenings at a regional artist guild and sculpture coursework at Bellevue Community College near Seattle, Washington.

Kevin's works are found in both private and corporate collections and commissioned works. He maintains a studio on his property near Coeur d'Alene, Idaho. He is also an avid flyfisherman and outdoorsman and is active in community service.